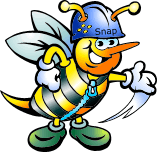 A programming tool suitable for creating any type of calendar, schedule, time table, resource table and more. The control supports 5 data views that are easy to change; rich event set and user interaction model. Users can create items interactively, define recurring events, or define custom-typed events, scroll the view or use drag & drop to modify an item.
The control provides programmatic access to all schedule objects. The appearance is completely customizable, built-in themes are also available. At run-time, appointments are created and edited with the built-in form. Every feature is documented in details, there are many tutorials and samples, which provide plenty of code to copy and study. You can learn more about Scheduling for ASP.NET here.
General
Price:
Free Trial or $300.00 for Single Developer License
Comments
No comments have been left here yet.
Action Links
Sponsored Listings
http://www.initializr.com/

Initializr is an HTML5 templates generator to help you getting started with a...