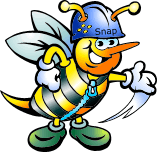 Webshim is a polyfill library that enables you to reliably use HTML5 features across browsers, even if native support is lacking.
Webshim is a polyfill solution. It adds these features in a way that is transparent to the end user and developer. It enables coding against the browser standards rather than learning and maintaining abstractions. It results in less code that is simpler and easier to maintain.
Comments
No comments have been left here yet.
Action Links
Sponsored Listings
http://www.initializr.com/

Initializr is an HTML5 templates generator to help you getting started with a...