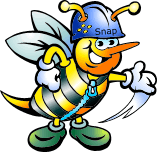 Pixie is a utility made especially for webmasters and designers. It is a color picker with few extra goodies.
Run it, simply point to a color and it will tell you the hex, RGB, HTML, CMYK and HSV values of that color. You can then use these values to reproduce the selected color in your favorite programs. Pixie will also show the current coordinates of your mouse pointer.
Download Pixie:
as a portable application (exe, 11Kb - Free)
in a ZIP archive (zip, 8.9kb - Free)
as a source code ($987.95 purchase required)
General
Price:
Free or source code for $987.95
Comments
No comments have been left here yet.
Action Links
Sponsored Listings
http://www.initializr.com/

Initializr is an HTML5 templates generator to help you getting started with a...