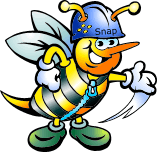 Pagerank 8
Alexa Rank 221
Perlfect Search is a free, sophisticated, powerful, versatile, customizable and effective site indexing/searching suite available under an open source license (GPL).
It comes as a pair of distinct scripts. The indexer, that automatically scans and indexes a web site, and the search engine, a cgi script that serves search queries for keywords over the index, and displays results pages in html, in a standard format including title, description and relevance ranking for each matching document. Advanced features include stopwords, a potent exclude mechanism and a handy automatic installation and configuration utility.
Perlfect Search Features Indexing system with support for ranking, using a document vector model, for relevant results. Internationalization (i18n), i.e. the result page can be in any language (templates for English, German, French, and Italian are included).
Linux/Unix and Windows compatible.
Files can be indexed via the local filesystem or via http (for dynamically generated files, e.g. PHP).
Highlighting of search terms in the search result and in the pages.
Full control of indexed content by allowing configurable exclusion of individual files and directories.
A user-configurable list of stopwords allows you to exclude specific words from the index.
Configurable minimum legth restriction for indexing words.
Can index PDF files (requires pdftotext, which is part of xpdf) and MS-Word files (requires antiword).
The indexing process can be started via a web form.
Users' search queries can be written to a log file. Highly optimized compact index.
Advanced search query options, such as keyword forcing (+) and keyword exclusion (-).
A fast and lightweight search algorithm can produce instant results even for large sites and for the most demanding queries.
100% customizable output layout generated based on user-defined HTML templates. You can fully define the look of the results page and the format of the individual results listings.
Results display in multiple pages with a customizable number of results per page.
Automatic installation and configuration utility to save you the trouble of installing the software on your server. Answering a few simple questions over a telnet/ssh prompt will get you up and running in minutes.
Comments
No comments have been left here yet.
Action Links
Sponsored Listings
http://www.initializr.com/

Initializr is an HTML5 templates generator to help you getting started with a...