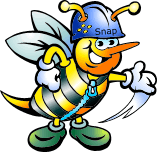 This is the in-progress free version of Learn C the Hard Way. It has over 50+ tutorial steps to assist you with learning C language.
Frequently Asked Questions
How long does this course take?
You should take as long as it takes to get through it, but focus on doing work every day. Some people take about 3 months, others 6 months, and some only a week.
What kind of computer do I need?
You will need either an OSX or Linux computer to complete this book.
Comments
No comments have been left here yet.
Action Links
Sponsored Listings
http://www.initializr.com/

Initializr is an HTML5 templates generator to help you getting started with a...