Selection of software and tools to aid in programming in Python.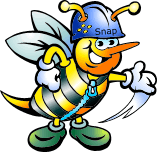 SerpentCS offers Odoo development services.We specialized in developing custom Odoo modules, workflows, and integrating third-party applications and services.We have team of experienced...
Add Your Resource Listing
Add your favorite webmaster related website to our database.
Help other webmasters discover your favorite treasure troves.
We only accept and list actively maintained - up to date quality resources.
There are no fees to add webmaster related resources to the Snap Builder Directory.
You may add your favorite free resource listing here, or click the Add Listing button located on any category page.