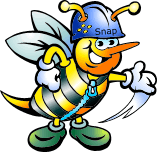 "Thinking in Java" is one of the best java book. This award-winning book by Bruce Eckel is designed for those who want to migrate from other object-oriented languages such as C++ to JAVA. The book covers everything there is to know about JAVA and it brings readers up to speed with the latest features of JAVA 2. The book pays particular attention to object design and it covers different APIs in JAVA 2. Some of the notable topics that are covered include object-design basics, JAVA I/O classes, inheritance and polymorphism, deployment to JAR files, object lifetimes, exception handling, and multi-threading and persistence, among others.
Comments
No comments have been left here yet.
Action Links
Sponsored Listings
http://www.initializr.com/

Initializr is an HTML5 templates generator to help you getting started with a...