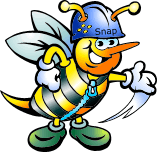 HTML5 <audio> or <video> player with Flash and Silverlight shims that mimics the HTML5 MediaElement API, enabling a consistent UI in all browsers.
Instead of offering an HTML5 player to modern browsers and a totally separate Flash player to older browsers, MediaElement.js upgrades them with custom Flash and Silverlight plugins that mimic the HTML5 MediaElement API.
Consistent HTML/CSS Player
Once the browsers have been upgraded so that they all "support" HTML5, MediaElement builds a fully skinnable player with features like support for the <track> element, fullscreen video, and even Ambilight.
Your visitors get a consistent experience regardless of what codecs and plugins their browser supports. And you become a mad HTML5 genius.
Comments
No comments have been left here yet.
Action Links
Sponsored Listings
http://www.initializr.com/

Initializr is an HTML5 templates generator to help you getting started with a...