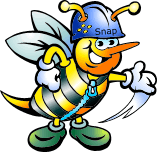 The MSA Random Link Generator allows you to set up a page which has a link on it, or establish a link on an existing page, which, when clicked on, the user is taken to a random url pulled out of a list of urls that you specify. The list of URLs resides in a file and the newest version of the Free For All Link Page allows for automatic addition to this file of all new links.
The Readme files at Matt's Script Archive contain detailed installation, configuration and usage instructions that will take you step by step from putting the scripts on your system to using them in your web pages. You should read these through and keep them by you when setting up or installing any MSA script. It is probably not a bad idea to print them out.
Comments
No comments have been left here yet.
Action Links
Sponsored Listings
http://www.initializr.com/

Initializr is an HTML5 templates generator to help you getting started with a...