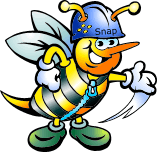 Matt's Script Archive Guestbook allows you to set up your own comments page. From there, visitors can add entries to your guestbook and they will be displayed with the most recent at the top and scrolling down or vice versa. Other options include the ability to limit HTML in the entry, link to e-mail address with mailto tag, use a log to log entries, redirect to a different page after signing, e-mailing whenever a new entry is added and much more.
The Readme files at Matt's Script Archive contain detailed installation, configuration and usage instructions that will take you step by step from putting the scripts on your system to using them in your web pages. You should read these through and keep them by you when setting up or installing any MSA script. It is probably not a bad idea to print them out.
Comments
No comments have been left here yet.
Action Links
Sponsored Listings
http://www.initializr.com/

Initializr is an HTML5 templates generator to help you getting started with a...