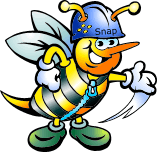 WonderDesk is a fully automated web based help desk software solution. It's a Perl CGI script that easily installs on your web server. It enhances the communication between your company and your customers. It keeps your company organized and efficient. No software is needed for your customers or technicians. Its 100% web browser based. Replace your support email link with the WonderDesk, and say goodbye to that messy email inbox and support requests that fall through the cracks.
The WonderDesk is one of the most, if not, the most flexible web based help desk software package available. You can install this on almost any web server. You can choose between any flavor of Linux, Unix, NT, 2000, 2003, and XP Pro web servers. On top of that, you can pick from five different databases: flat file, MySQL, Microsoft SQL, Oracle, and PosgreSQL! And of course, since it's fully web based, customers and technicians can use almost any computer with a web browser. The WonderDesk is fully customizable as well. You can modify the appearance, images, and text via our web based template editor. You can edit, remove, or add as many fields as you would like.
Comments
No comments have been left here yet.
Action Links
Sponsored Listings
http://www.initializr.com/

Initializr is an HTML5 templates generator to help you getting started with a...