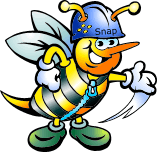 The Click Manager script can be used to count the number of times a link is clicked, be it a link to an outside site, a download, or anything else. It can also be used to display the number of times a link has been clicked on your site. It can display the number of times one, two, three, etc., or all of the links have been clicked, all added together.
This script was written with simplicity in mind, and it shows. There is no admin area and usually no configuration is required, but it has plenty of powerful features at your disposal.
Comments
No comments have been left here yet.
Action Links
Sponsored Listings
http://www.initializr.com/

Initializr is an HTML5 templates generator to help you getting started with a...