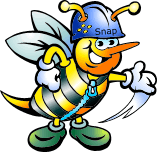 Easy Icon Maker is a small and easy-to-use all-in-one icon utility for icon making, editing, changing, extracting, searching, and exploring.
It allows you editing a transparent or opaque icon. The sizes may be 16 X 16, 32 X 32, 48 X 48, 64 X 64 or custom it as you like. The colors may be Monochrome(1 bit), 16 colors(4 bits), 256 colors(8 bits), true colors(24 bits), or true colors + alpha channel(32 bits).
With Easy Icon Maker, you may edit your own professional icons easily and quickly with the built-in editor. You may also extract an icon from an EXE or DLL file. You may import graphic file such as BMP, JPG or GIF and save it into icon file or export icon file to graphic file.
A capture button allows you capturing any area on the screen to the editor for editing. Filters functions allow you processing the icon with special effects such as lighten, soften, darken, lighten, blur, emboss, and more.
This version includes four enhanced icon tools, they are Icon Changer, Icon Searcher, Icon Extractor, and Icon Explorer.
Platforms:
Windows 95/98/ME, Windows NT/2000, Windows NT/2000/2003/SBS2003, Windows Vista, Windows XP
Download: Free Trial Download (.exe)
Purchase: Click here to purchase for $29.95
Comments
No comments have been left here yet.
Action Links
Sponsored Listings
http://www.initializr.com/

Initializr is an HTML5 templates generator to help you getting started with a...