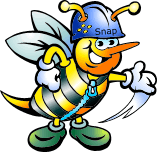 NOV Text Editor for .NET helps you embed state-of-art, Microsoft Word-like abilities in your .NET applications. It seamlessly integrates in WinForms, WPF, Silverlight, MonoMac, Xamarin.Mac and ASP.NET projects.
NOV Text Editor for .NET can create all types of text documents such as contracts, invoices, reports and others. Whether you need advanced text processing, automated document generation, reporting, text document conversion, WYSYWIG text and HTML editing, proofreading or others - NOV Text Editor for .NET has "out of the box" features to help you get your project done on time and on budget.
NOV Text Editor for .NET is exceptional in both capabilities and performance. That is why we made a commercial alternative to Microsoft Word - visit Nevron Docs to experience a text editor that is approximately 5 times faster than Microsoft Word and works on Windows, Mac and inside the browser.
NOV Text Editor for .NET has a polished API that is easy-to-use, so even the most compelling text processing tasks are achieved with minimial effort. That is why this solution is of mission-critical importance for any Desktop, Server or RIA application that requires solid text processing capabilities.
The licensing of the control is cost effective and without royalties (except for standalone, Microsoft Word-like applications).
Following is a list of the main features of the control:
Single API for the development of Desktop, Web and RIA apps

Completely WYSIWYG

Web, Normal and Print text layout modes

Multi column sections

Reading and writing of DOCX, RTF, HTML, TXT, NTX and NTB formats

Export to PDF

Tables, nested tables, auto fit tables, cell merging and splitting

Bullet lists and multi-level bullet lists

Floating objects

Printing

Mail merge

Spellchecker with support for Open Office dictionaries

Fields and hyperlinks

Scrolling and Zooming

Widgets (1D and 2D barcodes, gauges, charts etc.)
General
Price:
Free Trial or $569.00
Comments
No comments have been left here yet.
Action Links
Sponsored Listings
http://www.initializr.com/

Initializr is an HTML5 templates generator to help you getting started with a...