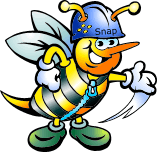 The AutoSuggest class adds a popdown menu of suggested values to a text field. The user can either click directly on a suggestion to enter it into the field, or navigate the list using the up and down arrow keys, selecting a value using the tab key. The values for the suggestion list are provided as XML (by a PHP script, or similar).
Comments
No comments have been left here yet.
Action Links
Sponsored Listings
http://www.initializr.com/

Initializr is an HTML5 templates generator to help you getting started with a...