A collection of Business training courses to learn or advance your Business skills.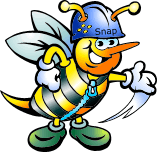 *Directors* -Successful Businesses in UK Problem with outsourcing Solution *The intention*- To provide the best quality of product and service to their clients from U.K and India. *The Process* We...
Add Your Resource Listing
Add your favorite webmaster related website to our database.
Help other webmasters discover your favorite treasure troves.
We only accept and list actively maintained - up to date quality resources.
There are no fees to add webmaster related resources to the Snap Builder Directory.
You may add your favorite free resource listing here, or click the Add Listing button located on any category page.